SOFORT Improvisation Days
November 25. – 28. 2021
ehrenfeldstudios, Cologne
Brotfabrik Bühne, Bonn
Deutsches Tanzarchiv, Cologne
SOFORT offers a platform for dance improvisation as an art form: a place for spontaneity, uncertainty, surprises, decisions and impulses. The improvisation days create connections between the everyday and what happens on stage – now, here and SOFORT.
The first edition of SOFORT Improvisation Days gives an insight into the work of choreographer and improvisation performer LISA NELSON: TUNING SCORES, a playful and spontaneous active, living dialogue about space, time, movement and the desire to compose our experience.
LISA NELSON has been exploring the role of the senses in the performance and observation of movement for almost five decades. The focus is on dance improvisation and the values of interplay, dialogue and flexible survival strategies that emerge in it. She describes the TUNING SCORES as a playful, improvisational, living format.
THE TUNING SCORES – AN AESTHETIC GAME
In Tuning Scores, the five performers use "scores" to collaboratively create an unfolding composition live and spontaneously in front of an audience. Some tools are openly presented to the audience: The "calls" – calls like "pause", "rewind", "end" influence the course of the stage action. The audience follows closely how ideas are spontaneously realised, how images, moods, relationships, stories emerge and unfold in real time, how wishes come true or not.
The performances always reveal anew, always surprisingly, how we speak to each other through dance.
THE PERFORMERS
Stéphanie Auberville (FR/BE), Franck Beaubois (FR), Caroline Boillet (FR), Bryce Kasson (US/GER)
Scott Smith (USA/UK) & Lisa Nelson via Zoom (US)
You can find the entire programme and further information here! (german version only)
On 26 and 27 November there will be a hybrid offer: You will have the opportunity to join the ARTISTS TALK with Lisa Nelson and Scott Smith and to participate in TUNEZOOM, the Tuning Scores Online Practice. Click here for the links on dringeblieben.de!
TICKETS AND RESERVATIONS
BÜHNE in der BROTFABRIK:
SINGLE TICKET: on a donation basis presse@tanzwerkevanekpreuss.de
EHRENFELDSTUDIOS:
Our sliding scale applies to all tickets:
FESTIVAL TICKET: (Fri. – Sun.): 22€ – 40€
SINGLE TICKET: 8€ – 15€
DEUTSCHES TANZ ARCHIV COLOGNE:
TUNING GAMES Presentation: free entry
The visit of the presentation allows free admission to the Tanzmuseum.
For a smooth process we would like to inform you that the festival will take place under "2G+" (recovered, vaccinated) conditions, i.e. proof of vaccination or recovery requires an additional official negative rapid test ("citizen test"/no self-test), which is not older than 48 hours.
TEAM
Artistic direction: Caroline Simon
Consultation & Coordination: Bryce Kasson
Administration: Carina Graf
Organisation: Anna Boldt, Selina Ehlen
Technical direction: Beppo Leichenich
Digital offer: frankaflux
PR : Kerstin Rosemann
Photo: Angela Guerreiro
Graphics: Caroline Simon
SUPPORTED BY


.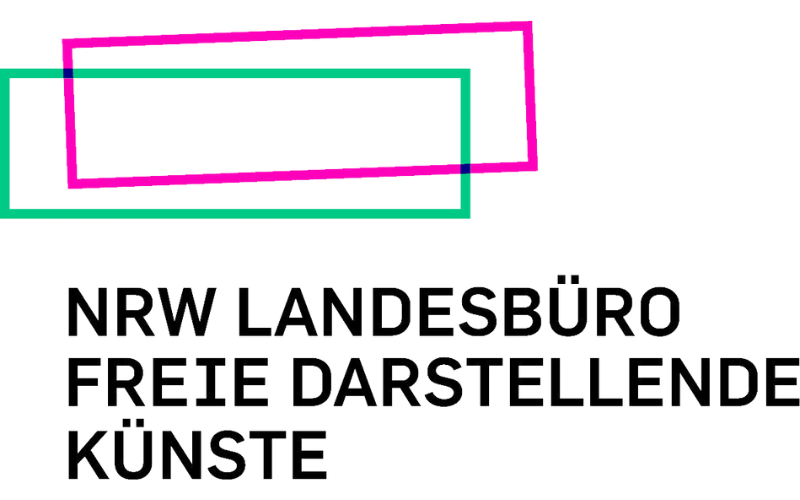 .